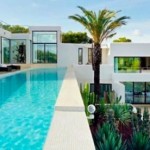 Organizing a holiday is no piece of cake and accommodation can often be the biggest holiday headache of them all. Eden Luxury Homes (www.edenluxuryhomes.com) has one main goal – to research and locate the best luxury rentals, thus giving you one less thing to worry about!
The firm does this through its extensive network of representatives. All its managers will be familiar with a particular destination or region, and will focus on that geographical area. They will visit properties to see whether or not they come up to the company's very demanding criteria. In the end, only about 30% of the properties inspected will actually
make the grade. Those that do satisfy our managers will be at the top end of the market. Many will boast distinctive décors and contemporary architecture and all will have top-class facilities. Eden Luxury Homes can also arrange concierge-style services tailored to your needs.
Why not click here to find out more about Eden Luxury Home's Provence rentals, or else follow the link in the picture below to see the large range of striking contemporary villas on the company's books on the island of Ibiza?