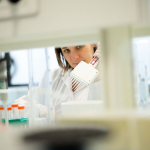 There's a French company, DBV Technologies, that's been attracting attention in recent years due to its innovative approach to diagnosing and treating food allergies.
If you go onto the DBV Technologies internet site there's plenty of information on the different products being developed (which you can see at http://www.dbv-technologies.com/en/viaskin-products). Most effort is being put into the Viaskin patch, which is designed for people suffering from peanut, cows' milk protein and hen's egg allergies.
The patch itself is in some ways a relatively simple product – it's an adhesive patch with a titanium backing carrying a layer of proteins (antigens). Where the hi-tech aspect really comes into play is in the manufacturing process, of which you can see a little in the picture below. The antigens are initially in liquid form, but are sprayed onto the titanium backing by an electrospray. This electrically charges the particles, which helps ensure that the layer of antigens is distributed evenly all over the patch. It also helps them retain all their chemical properties. Although these particles dry upon contact on the patch, the patch wearer's body heat creates sweat, with which the antigens mix and then pass through the skin.